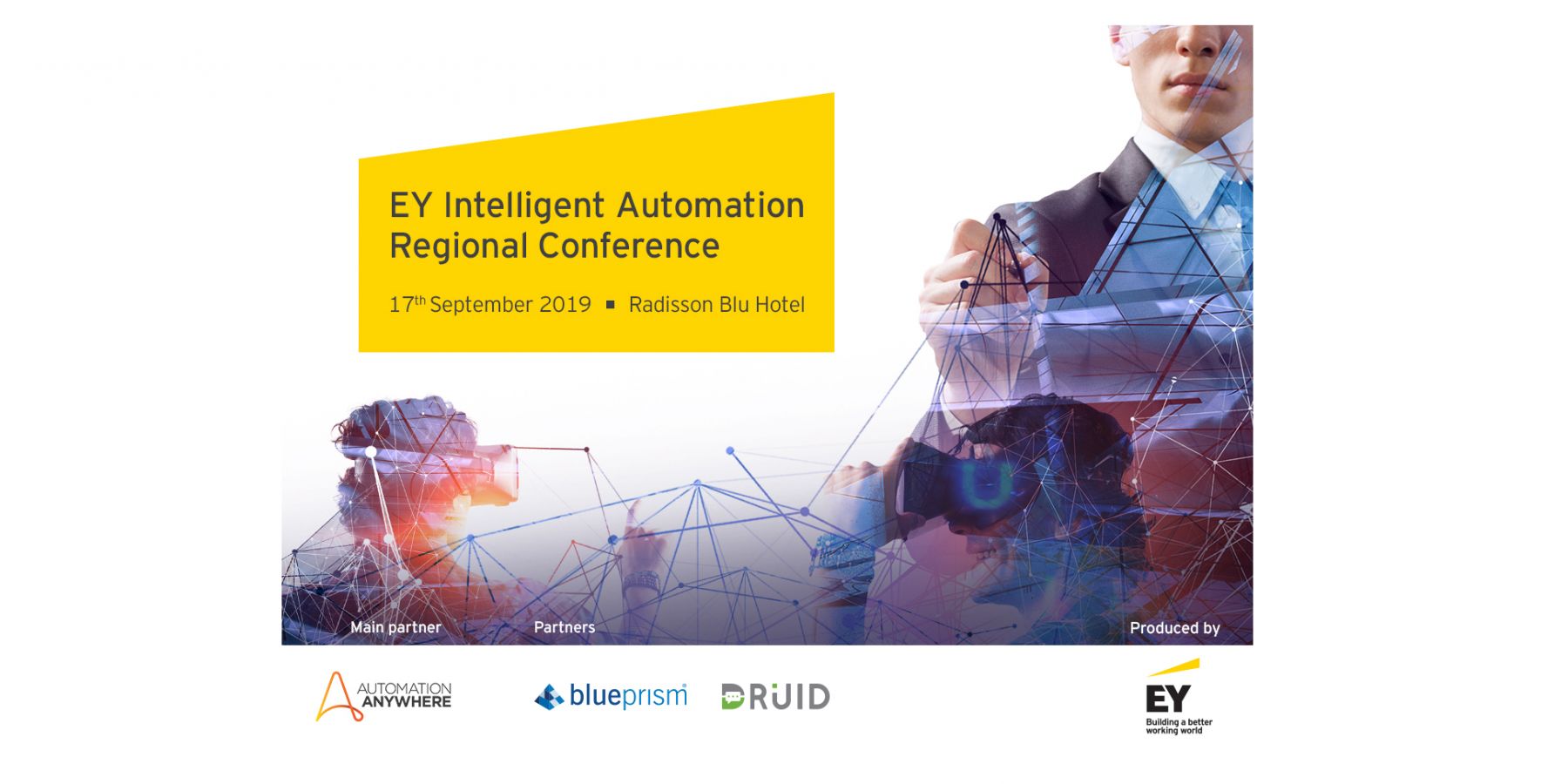 EY Intelligent Automation Regional Conference 2019
07 October 2019
Radisson Blu Hotel, Bucharest, Atlas Hall, Romania
Add to calendar
10/07/2019 09:00
10/07/2019 20:00
Europe/Bucharest
EY Intelligent Automation Regional Conference 2019
EY Intelligent Automation Regional Conference is one of the largest and most comprehensive event of its kind in Romania. We are committed to our promise to bring to our audience the latest on automation technologies and other complementary solutions that enable digital transformation.
https://myconnector.ro/virtual/ey-intelligent-automation-regional-conference-2019182
Radisson Blu Hotel, Bucharest, Atlas Hall
About
EY Intelligent Automation Regional Conference is one of the largest and most comprehensive event of its kind in Romania and from EY CESA region. This year we will be organizing our 4th edition on September 17th at Radisson Blu Hotel, Bucharest.
We are committed to our promise to bring to our audience the latest on automation technologies and other complementary solutions that enable digital transformation.
Join over 200 participants at the fourth annual EY Intelligent Automation Regional Conference for insightful presentations and focused workshops covering topics such as Market Insight, Digital Trust, and Innovation in the automation landscape.
During recent years, the business and IT leaders have been challenged to drive digital transformation in their organizations to remain competitive and relevant for the market. Led by international guest speakers from EY and Forrester Research, alongside with other leading professionals from the industry, our event focuses on promoting automation and other complementary technologies to address digital transformation in a strategic manner
Since 2016, EY Intelligent Automation Regional Conference has served as a forum of expertise, focused on practical insights that bring value to all participants who have embarked on an automation journey. The conference attracts notable guests from throughout Europe, including automation experts, research companies, industry leaders, and large automation solution suppliers.
Be part of the Intelligent Automation buzz this September in Bucharest!
Venue